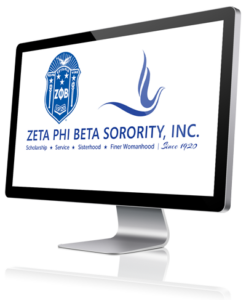 As undergraduate chapters, graduate chapters, and our direct affiliates (Amicae, Archonettes, Amicettes, Pearlettes and Male Network) become more technologically advanced, Zeta Phi Beta Sorority, Inc. recognizes that many chapters and affiliates members may wish to have their own home page on the World Wide Web. To prevent the publishing of information that may jeopardize the safety or invade the privacy of the Sorority and/or its members, the International Website Development Team has set forth the following policy guidelines for all Zeta web sites.
If your chapter or affiliate group wishes to create a website, consult these guidelines before you begin. The guidelines were established to ensure that all sites positively reflect on Zeta Phi Beta Sorority, Inc. while protecting members' privacy. This document is to be accompanied by a Website Style Guide. If you have any questions about setting up a website or any questions or comments about these guidelines, please direct your questions to the International Website Development Team through the International Headquarters.
Policy on Websites of Zeta Phi Beta Sorority, Incorporated and Direct Affiliates
First, determine your audience. This could be anyone from people with negative ideas of Greek life to those who know nothing about Greek life. Viewers will make assumptions about Zeta Phi Beta Sorority, Inc. based on the content of your page. Additionally, determine who will design and maintain the site. Before creating a site, it is important to understand your goals in wanting one. A website provides an opportunity for you to educate potential members and others about your Sorority and or affiliation with Zeta Phi Beta Sorority, Incorporation.
You may want to include the following:
However, all web sites will be monitored by the national organization on a regular basis.
ALL REGIONS, STATES AND LOCAL CHAPTERS WISHING TO MAINTAIN A ZETA PHI BETA SORORITY WEB SITE MUST:
Register the Web address with the International Website Development Team of the Sorority by sending an email to Webteam@ZphiB1920.org
Comply with university/college policies
Comply with NPHC rules and all applicable federal, state, provincial and local laws.
Include a contact e-mail address for web site visitors to submit comments, suggestions, complaints and questions.
Protect the privacy and safety of the Sorority and its members by not publicizing personal information (name, e-mail address, group photographs where individuals may be identified, etc.) without permission of the members.
Guidelines for Internet Home Pages of Zeta Phi Beta Sorority, Inc. have been prepared in the interest of protecting Zeta on a regional, state and local level and minimizing potential legal liability. Zeta has intellectual property interests in its symbols, ceremonies and other interests, which need protection from legal risks.
Accurate, complete and current information is critical to legal protection. International Headquarters will be the sole source of the following topics as they appear on any home page.
Regions, State and locals chapters and individual members with home pages are permitted to share the following information via links to the National home page:
Mission of the Sorority
History of the Sorority
Membership Demographics
How to Become A Member
The Sale of Zeta Publications/Artifacts
Announcements of any kind from the International Office
WEBSITES MAY INCLUDE:
The Dove of Peace
The White Rose
The Torch of Wisdom
Photographs of Chapter Activities and Public Service Events (Professional photographs are strongly suggested) wearing sorority colors
Chapter Histories
Chapter Charter Members and Founders, including pictures
Past National Presidents (only if the Soror was initiated through that particular chapter.)
Past Chapter Presidents
Chapter Officers
Region, States, Chapters and Affiliates' names must follow the name of Zeta Phi Beta
Sorority, Inc. For example Zeta Phi Beta Sorority, Inc. Upsilon Theta Zeta Chapter. Not the Upsilon Theta Zeta chapter of Zeta Phi Beta Sorority, Inc.
WEBSITES SHALL NOT INCLUDE THE FOLLOWING:
Individual pictures of chapter members, unless a photo release form is on file with the chapter and National Headquarters.
Physical home addresses or personal phone numbers.
Photographs of Sorors consuming food and or beverages
EMAIL/LISTSERVES/BLOG LISTS/OUTSIDE WEBSITES
You should exercise caution when sending e-mails on the web. Confidential information should not be disclosed via e-mail. Protect Zeta information by not forwarding it to outside parties. Use "bcc" whenever sending e-mails to large groups of recipients. Personal e-mail addresses should not be sold to outside parties.
Chapter e-mail addresses should be checked on a regular basis. You should designate specific Sorors within your chapter to check the e-mail box. Once these Sorors relinquish their responsibility, they must give usernames and passwords to new designees. E-mails containing chapter information should not be forwarded to outside parties.

Sorors are expected to conduct themselves in a manner as to not bring reproach upon themselves when utilizing listserves, blog lists, and outside websites. You are expected to display Finer Womanhood at all times. You are also expected not to disclose information of a confidential nature while utilizing these listserves and sites.
FINER WOMANHOOD ON THE WEB
Finer Womanhood defined: Distinguishing characteristics of a woman, one superior in kind, quality, or appearance; marked by or affecting elegance or refinement.
Please remember that any one with access to the Internet can see your site. Appropriate content is the responsibility of each chapter. Each web site should present a positive image of our Sorority. The principle of Finer Womanhood should prevail at all times. Refrain from using pictures that depict alcohol, illegal substances, lewd behavior or scantily clad or other inappropriate behavior. For example, it would be appropriate to publish news about your chapter winning Greek Week or your chapter's high scholastic ranking on campus. However, it would be inappropriate to promote a campus party that emphasizes the use of alcohol or free admission for wearing tight jeans or thongs.
VIOLATION OF WEB SITE GUIDELINES
In the event that a violation of these policies is discovered, the Sorority may require that the chapter make changes to its Web site or that the Web site be terminated. Chapters that do not comply with the rules, as set herein within 72 hours of notification will be subjected to monetary fines, suspension and or other disciplinary action, left to the discretion of the National Executive Board.
PROFESSIONAL APPEARANCE
Today, people surfing the Web expect more of web sites. Your web page should have a professional appearance. Consider having an experienced Web designer look at your design prior to launching it on the Internet. Each page of your web site should include a site map or link to the home page. Visitors tend to leave a site if they cannot find their way around.
GETTING IT RIGHT
Accuracy is important. Verify all facts, historical data and any other information you include on your web site. Check and re-check your spelling. Please use correct grammar. Have someone proofread your web site. Do not hesitate to contact Headquarters for further clarification if necessary.
ACTION SPEAKS LOUDER THAN WORDS
Remember that action shots are much more effective in telling your "story" than a picture of a group of women posing for the camera.
GETTING LEGAL
The name "Zeta Phi Beta Sorority, Inc." (the Greek letters), all stylized versions of these, the shield, pledge pin, sorority pin and other are registered trademarks of the Sorority. They are to be used by, graduate chapters and collegiate chapters only. The name and shield may be used by recognized affiliates with permission.
Using profanity and/or degrading language is prohibited and cause for disciplinary action. Public criticism of Zeta Phi Beta Sorority, Inc., its officers, IHQ staff or members is prohibited.
Secure permission from all individuals in photographs and the photographer before using in the Web site.
Photo Release Forms may be downloaded from the Members Only section of the International Website. Photographs must reflect positively on Zeta Phi Beta Sorority, Inc.
LINKING TO THE NATIONAL WEBPAGE
Contact the National Website Development Team of Zeta Phi Beta Sorority, Inc. at Webteam@ZphiB1920.org to have your URL placed in the chapter directory on the International Website. You may also link to the National Pan Hellenic Council. Do not link to personal or commercial Web sites that are not consistent with Zeta Phi Beta Sorority, Inc. guidelines and policies. Sites will be considered in violation if they contain such links.


SITE COMPLIANCE
All sites must comply with the rules and regulations of Zeta Phi Beta Sorority, Inc. and all applicable federal, state, provincial and local laws regulating computer and telecommunications use, privacy and publicity rights and defamation. Web sites may not be used for commercial, political or religious purposes. The content of sites will be monitored regularly and is subject to approval by the National Executive Board.


THINGS TO REMEMBER
The Internet is publicly accessible worldwide and the security of Zeta's property is our responsibility. When the names of Sorors appear on home pages, use caution in providing identifying information such as personal telephone numbers, addresses, and place of employment. Protect the privacy of Sorors at all times against such fraudulent and potentially criminal activities as unauthorized credit card and ATM usage, and robbery.
• Information published on the Internet is not confidential and is available to anyone.
• Keep your site in good taste and make sure it represents Zeta Phi Beta Sorority,Inc. well.
• The Zeta Phi Beta Sorority, Inc. Internet Taskforce monitors all chapter and club sites. Those sites in violation of these guidelines will be reported to the appropriate committee.
SETTING THE STANDARD: ZETA PHI BETA WEB DEVELOPMENT TIPS & TECHNIQUES DESIGN
Have a Well-structured Site.
A user interface (website navigation menu) needs to communicate clearly with your web audience. In order to communicate clearly, your navigation should be well organized and structured. Web pages within the site should have a consistent and predictable appearance, so that it will be easier for users to navigate within your Web site.
Any web page may be accessed directly from another web site; therefore each web page needs to contain essential information that allows it to act as an independent document. Links to the homepage should be included on every page within your site. Increase the navigability of your website by providing a menu or table of contents of the Web site on each Web page.
Use appropriate text fonts and colors
Different web page browsers may display special non-standard text fonts in various ways. For this reason, use standard text fonts such as Arial and Times New Roman whenever possible in designing your website. Avoid using extremely colorful backgrounds or using photographs as backgrounds because they make text hard to read.
Keep graphics and file sizes small
Graphics can effectively be used to add interest to a web page, but the amount and size of graphics should be kept to a minimum. Too many graphics, a single large graphic, Flash introductions, java applets and other special effects can take a long time to download. Usually, using several smaller graphics, as opposed to one large one, can create a better impression for visitors to your site. If you are using Adobe Photoshop (industry standard) to create your graphics, use the built in utility to optimize your graphics for the web.
Make your pages error-free
Have someone else review your website to make sure all graphics load and all links work correctly. Errors in your HTML can cause your Web pages not to display properly or at all. Make sure that your links work. Avoid "under construction" pages. If content is not ready to be published, simply do not link to it on your website.
ACCESSIBILITY
You can make your website accessible to people with disabilities and those who cannot view graphics by using descriptive "alt" tags for your images in your html. To learn more about how to make your website accessible to people with disabilities (called 508 Compliance) visit http://www.jimthatcher.com/webcourse1.htm. 508 Compliance is not a requirement of Zeta Phi Beta Sorority websites but it is considered good design practice.

USABILITY
Usability indicates the ease with which viewers can use your web site. Checking your Web site's usability can generate more traffic to your site. It may take you a little extra time and patience, but you can be assured you are reaching and pleasing a wider audience. Here are the essential usability factors to consider when designing your website.
Test your website for browser compatibility
Install different browsers on your computer in order to test your web site for browser compatibility so your web site can be seen by as many people as possible. Netscape and Internet Explorer display html differently depending on the version used. Be prepared to make some changes to your html in order for your pages to look as similar as possible in all browsers.
Test your website for different resolutions
Just because your website looks great with your computer set to a resolution of 800×600, it doesn't mean it will look good at a 1024×768 resolution. Often your web site may be hard to read or aligned to the left or right of the screen. To test your web site in different resolutions, on your computer go to start – settings – control panel – display – settings – then slide the pointer to the resolution you want.
Test for connectivity speeds
You may be proud of your fast DSL, satellite or cable connection to the Internet, however still most Internet Users still connect via the modem. Connectivity speed, determines how fast your site will load. If it contains large graphics that have not been optimized for the Web, you may rapidly lose your audience.
Website Administration
Register a domain name for your chapter
The domain name www.zphibnuxizeta.org appears much more professional than: http://www.geocities.com/College/Avenue/nuxizeta/index.html. The first is also much easier to remember. It's fairly inexpensive to register your chapter's domain name.
Avoid Free Web Hosting Services
Many free web hosting services generate large, unattractive banner ads each page visit.
There are web hosts that provide inexpensive services without banner ads to give your website that professional edge.
Update Your Site as Often as Possible
Chapter websites with outdated information will drive people away from your site. A complete overhaul isn't needed every week. Keep it simple and assign a chapter member the duties of updating your web site periodically.
Submit to Search Engines
Submit your web site to search engines such as Yahoo, Excite and fraternity/sorority related sites. Request that your chapter website be listed on the websites of community organizations that you partner with. For undergraduates, make sure that your chapter website is listed on your school's NPHC and/or Greek Life webpage. Exchange links with other chapter websites. Announce your website on NPHC and other relevant email listserves. Be sure to notify these websites and listserves if your url changes.

Use Keywords to Optimize Your Position in Search Engines
Place keywords that describe your web site into meta tags, which are placed between your tags within a web page. For example: Many search engines use these keywords to rank your website.

Website Development Resources
Several easy-to-use programs are resources are available to help those with little or no knowledge of web design construct an attractive site. Sorors and our affiliates are encouraged to use the technology of the Internet to create professional individual and chapter home pages, which complement the International Web Site and showcase local Zeta Phi Beta Sorority, Inc. activities.

This document is the property of Zeta Phi Beta Sorority, Inc. It shall not be reproduced, copied, or shared outside of Zeta Phi Beta without the express permission of the International Headquarters.